Life Groups - Meeting Online
What are Life Groups?
Life groups are communities of people looking to build authentic relationships with God and each other. In life groups, we encourage and support one another as we study, pray, and share. They are a safe space where every voice is heard and every person is loved.
What Will We Be Studying?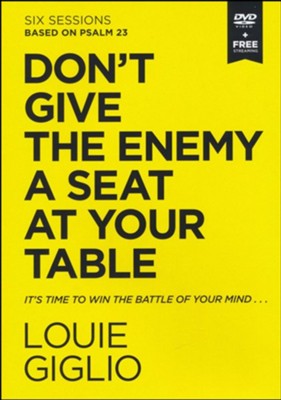 We've all been in circumstances that cause our minds to spin with thoughts that are unproductive, destructive, and harmful. It's easy to feel overwhelmed and wonder why we keep falling into the same thought patterns. We need to recognize these thoughts are not from God, but from an enemy lurking who wants to seize every opportunity to lie his way into our minds
This study offers biblical guidance on how to:
Cancel the lies that will wreck your life
Restore peace and rest in your life by taking authority over your thoughts
Break free from the endless cycle of destructive thinking and recapture your emotions
Embrace the true purpose behind you journey through challenging circumstances
In Don't Give the Enemy a Seat at Your Table DVD Bible study, Louie Giglio examines Psalm 23 to help you reject the negative narrative from the enemy and take authority over your mind and live fully in Christ. In six sessions, you'll discover God's plans to experience rest, hope, and freedom in Christ. DVD includes streaming video access.
Sessions include:
The Table Before Us (21:30)
The Tactics of the Enemy (22:00)
The Battle for Our Mind (22:30)
The Path to Victory (22:30)
God's Invitation Always Stands (22:30)
In the Presence of Our Enemies (23:00)
Who Can Join?
Everyone is welcome! At New Life, we recognize that everyone needs community now more than ever! These groups are for anyone looking for more community, even if you've never joined us before or don't call New Life 'Home'. Our hope is that you will feel welcomed, heard, loved, and understood and we look forward to seeing you online!
What Happens When We Meet?
When we meet together, we spend time reconnecting with each other, watching a short video, and talking about it afterwards. After reflecting on God's message to us, we pray for one other and those outside our communities to close the evening.
Where?
Online/Over the Phone (Due to COVID-19)
When?
Starting in Oct 6: Biweekly on Wednesdays or Thursdays @ 7:00 PM (PDT)
Can I Join Partway?
Of course! Click the link below to Contact Pastor Craig for a online Zoom link and we'll get you plugged in as soon as possible!
How Do I Join?
To get the Zoom link to join or learn more about Life Groups at New Life, click the link below to contact us.