Life Groups - Meeting Online
What are Life Groups?
Life groups are communities of people looking to build authentic relationships with God and each other. In life groups, we encourage and support one another as we study, pray, and share. They are a safe space where every voice is heard and every person is loved.
What Will We Be Studying?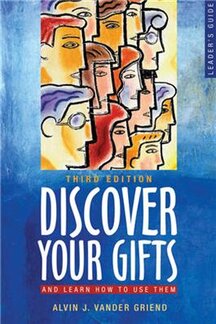 Do you every wonder where you fit in your congregation? Do you have difficulty finding meaningful ways to contribute?
The answer lies in identifying the spiritual gifts you have been given by God. Every Christian has potential for service in God's kingdom. But potential must be developed.
Now in its third edition, Discover Your Gifts and Learn How to Use Them will help you cultivate your God-given gifts. In this course you will learn what spiritual gifts are, why God has given them, and how God wants them to be used.
The hands-on, interactive approach of Discover Your Gifts will help you
Learn what the Bible teaches about spiritual gifts and how God wants us to use them
Identify your gifts using the Discover Your Gifts Survey (in this book or online)
Consider how your skills, talents, and ministry passions can help you use your gifts effectively for the kingdom of God
Gather insights from FAQs about spiritual gifts
Learn more about your own gifts of others in the Gift Studies section of the book
Complete a Ready to Serve! Form that you can hand in for follow-up and placement in ministries
God wants your church to be a ministering body. Discover Your Gifts and Learn How to Use Them is a practical tool to help your church achieve that goal.
Everyone is welcome to participate. The life groups are designed for community as we share a 20-25 minute video or Bible Study followed by an interactive discussion. The study guide includes teaching notes, discussion questions, Bible exploration, and personal study reflection materials for in-between session. If you would like to be a part of our life groups this spring, please email me with your complete mailing address. We will mail you a copy of the study guide.
Who Can Join?
Everyone is welcome! At New Life, we recognize that everyone needs community now more than ever! These groups are for anyone looking for more community, even if you've never joined us before or don't call New Life 'Home'. Our hope is that you will feel welcomed, heard, loved, and understood and we look forward to seeing you online!
What Happens When We Meet?
When we meet together, we spend time reconnecting with each other, watching a short video, and talking about it afterwards. After reflecting on God's message to us, we pray for one other and those outside our communities to close the evening.
Where?
In Person and online over Zoom


When?
GROUP 1 - Craig & Debbie Minke – Langley – In Person (Meets every second Wednesday (Beginning Oct 5,19, Nov 2, 16, 30) 5 sessions
GROUP 2 - Johannes & Juliet Breytenbach - White Rock – In Person (Meets every second Thursday (Beginning Oct 6, 20, Nov 3, 17, Dec 1) 5 sessions
GROUP 3 – Keith & Barbara Roberts – Surrey – In Person (Meets every second Sunday after church (Beginning Oct 9, 23, Nov 6, 20, Dec 4) 5 sessions
GROUP 4 – Job & Imani Ayuba – Over Zoom (Language Swahili) (Meets every second Friday (Beginning Oct 7, 21, Nov 4, 18, Dec 2, 16) 6 sessions
GROUP 5 – Craig & Debbie Minke – Over Zoom (Meets every second Wednesday (Beginning Oct 12, 26, Nov 9, 23, Dec 7) 5 sessions
Can I Join Partway?
Of course! Click the link below to Contact Pastor Craig and we'll get you plugged in as soon as possible!
How Do I Join?
To get the In-Person meeting location or the Zoom link to join or learn more about Life Groups at New Life, click the link below to contact us.