Life Groups - Meeting Online
What are Life Groups?
Life groups are communities of people looking to build authentic relationships with God and each other. In life groups, we encourage and support one another as we study, pray, and share. They are a safe space where every voice is heard and every person is loved.
What Will We Be Studying?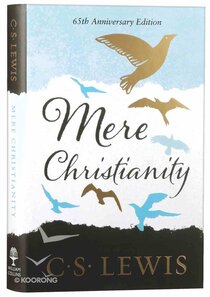 We will be beginning our next DVD series called "Mere Christianity" in February. In this 8-session video group study, you will discover why Mere Christianity by C.S. Lewis is one of the most read and beloved Christian books of all time. But over seventy years after it was first delivered as a series of radio messages, what relevance does it have to our world today? Host Eric Metaxas and a variety of Christian leaders – including Philip Yancey, Alister McGrath, Devon Brown, Paul McCusker, Douglas Gresham and others – helps us to understand the timeless message of C.S. Lewis in fresh ways for a new generation.
Metaxas and other speakers will explore the positive ideas that C.S. Lewis has so eloquently written about in Mere Christianity for those who already call themselves Christians. This video study guide also explains in an engaging, winsome, and nonthreatening way the basic tenets of the Christian faith as illustrated by C.S. Lewis to those who do not claim to be Christian.
The study guide includes video notes and discussion questions, individual activities, and personal study for each session. The study guides will be mailed to you when you free of charge when you sign up for the life groups. If you would like to make a $10 donation for the book you can simply send it in as an offering to the church. It is highly recommended but not required that you to pick up a copy of C.S. Lewis's original book entitled "Mere Christianity"
The program includes 8 exciting sessions:
1. Our Sense of Right and Wrong
2. What's Behind our Sense of Right and Wrong
3. The Rival Conceptions of God
4. Free Will and the Shocking Alternative
5. Christian Behavior and the Great Sin of Pride
6. The Christian Virtue of Hope
7. God in Three Persons
8. Counting the Cost
Everyone is welcome to participate over Zoom. The life groups are designed for community as we share a 20-25 minute video followed by a interactive discussion. The study guide includes teaching notes, discussion questions, Bible exploration, and personal study reflection materials for in-between session. If you would like to be a part of our life groups this spring, please email me with your complete mailing address. We will mail you a copy of the study guide.
Who Can Join?
Everyone is welcome! At New Life, we recognize that everyone needs community now more than ever! These groups are for anyone looking for more community, even if you've never joined us before or don't call New Life 'Home'. Our hope is that you will feel welcomed, heard, loved, and understood and we look forward to seeing you online!
What Happens When We Meet?
When we meet together, we spend time reconnecting with each other, watching a short video, and talking about it afterwards. After reflecting on God's message to us, we pray for one other and those outside our communities to close the evening.
Where?
Online/Over the Phone (Due to COVID-19)
When?
Starting in February 2: Biweekly on Wednesdays or Thursdays @ 7:00 PM (PDT)
Can I Join Partway?
Of course! Click the link below to Contact Pastor Craig for a online Zoom link and we'll get you plugged in as soon as possible!
How Do I Join?
To get the Zoom link to join or learn more about Life Groups at New Life, click the link below to contact us.