Life Groups - Meeting Online
What are Life Groups?
Life groups are communities of people looking to build authentic relationships with God and each other. In life groups, we encourage and support one another as we study, pray, and share. They are a safe space where every voice is heard and every person is loved.
What Will We Be Studying?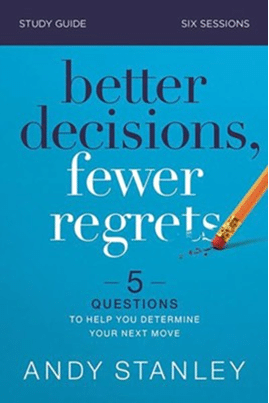 Every day, we face decisions that determine the direction and quality of our lives. In the Better Decisions, Fewer Regrets DVD bible study, Andy Stanley gives us five key questions ---about honesty, storytelling, tension, wisdom, and love--- to ask every time we make a decision. Join one of our groups to study together, learn together, share life together.
Good questions lead to better decisions! Why do we hear this so often on the back side of a bad decision? Because the more questions we ask, the more insight we gain and the better decisions we make.
Who Can Join?
Everyone is welcome! At New Life, we recognize that everyone needs community now more than ever! These groups are for anyone looking for more community, even if you've never joined us before or don't call New Life 'Home'. Our hope is that you will feel welcomed, heard, loved, and understood and we look forward to seeing you online!
What Happens When We Meet?
When we meet together, we spend time reconnecting with each other, watching a short video, and talking about it afterwards. After reflecting on God's message to us, we pray for one other and those outside our communities to close the evening.
Where?
In Person and online over Zoom


When?
GROUP 1 - Craig & Debbie Minke – Surrey - In Person (Meets every second Sunday after church (Beginning Feb 19, Mar 5, 19, Apr 2, 16, 30) 6 sessions
GROUP 2 - Johannes & Juliet Breytenbach - White Rock – In Person (Meets every second Thursday (Beginning Feb 16, Mar 5,19, Apr 2, 16, 30) 6 sessions
GROUP 3 – Job & Imani Ayuba – Over Zoom (Language Swahili) (Meets every second Friday (Beginning Feb 24, Mar 10, 24, Apr 7, 21. May 5) 6 sessions
GROUP 4 – Craig & Debbie Minke – Over Zoom (Meets every second Wednesday (Beginning Feb 22, Mar 8, 22, Apr 5, 19, May 3) 6 sessions
Can I Join Partway?
Of course! Click the link below to Contact Pastor Craig and we'll get you plugged in as soon as possible!
How Do I Join?
To get the In-Person meeting location or the Zoom link to join or learn more about Life Groups at New Life, click the link below to contact us.